First things first / To hlavní na začátek
1. Support the CD! It took a lot of work and it's quite something. / Podpořte to CD. Bylo s ním dost práce. A když nic jiného, je poctivě divné.
2. If you are not Czech, select rewards that are either in English or both languages. / Odměn, které jsou jen v angličtině, si nevšímejte. Nedávají pro vás smysl. Berte ty, co jsou aspoň trochu česky.
3. To select a reward, you need to click on "Podpořit projekt". The rest of the interface is in English, so it should't give you much of a trouble from then on. / To, že je systém Startovače česky, vás asi nerozhodí, takže to nemusíme řešit.
4. Czech below... / Pokud čtete radši česky, sjeďte níž na stránku. O hodně níž.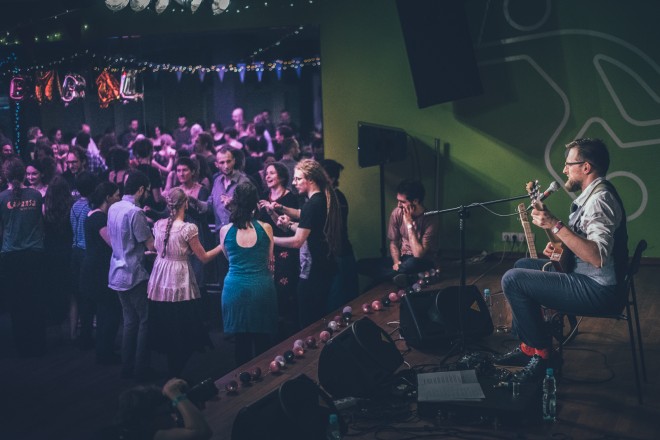 Ain't but one kind of blues... and it's folk
Mr. Folxlide is the ultimate balfolk - blues crossover. European folk dance music with the raw sound of American cigar box guitars. And old time blues adapted for balfolk dancing. Road tested at festivals all around Europe. It was high time to think out of the box, record everything, put it in the box again and deliver it to your doorstep.
Ain't but one thing we are sure of: you have never heard anything quite like this!
Why the hell balfolk on cigar box guitar?
Because everyone can have the blues. Black and white people alike, no matter what their nationality is. And all folk music is about love and death anyway. Cigar box guitars are also tuned in an open chord, pretty much the same way as bagpipe or hurdy-gurdy. Drone, ostinato and simple riffs are something we can find in folk music all around the globe, if we look deep enough. It was just about time to pick all that up and use it. It came just naturally. Not convinced yet? Check the sound clips!
Embed third party content
To protect your privacy, we do not automatically load third-party content without your consent.
Want to load content from the w.soundcloud.com website?
How did the recording go?
Slowly. Painfully. But it was worth it. Even though Mr. Folxlide was well tested in live situations, once in studio we had to rethink it all. More loops. More instruments. Guests. New arrangements. And careful ear of a professional producer and sound engineer Michal Pajdiak, the guy behind Alvik and other electro-jazz projects. So far it took 87 hours of studio time, with at least 20 more to come. Still, did we say it was worth it? It was.
Where will my money go?
About half of it will cover those hours and hours of studio time. One third will go to the CD manufacturing company. The remaining one sixth will pay for the guests, graphic designer and other attached expenses. That's it, no sugar for Mr. Folxlide. Still he thinks it was worth it. Did we mention that already?
Thank you for reading & your support!
---
Mr. Folxlide hraje muziku k tanci, snění i pofňukávání. Evropské lidovky se syrovým zvukem amerických kytar z krabic od doutníku. A naopak staré blues hrané jako evropské lidovky. Otestováno na festivalech ve Francii, Holandsku, Polsku, Německu i u nás doma. Teď to chceme nahrát, šoupnout do krabičky a vyexpedovat k vám. Aby se ta muzika dostala ještě dál do světa. Třeba až do Aše, nebo kde je vám zrovna konec...
Každopádně: garantujeme, že nic takového jste ještě neslyšeli.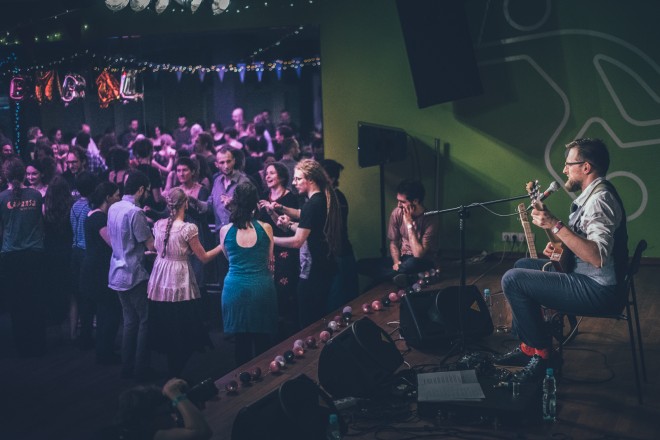 Proč doutníky, blues a lidovky?
Protože blues v duši může mít každý. Černoši i běloši. Američani, Francouzi i Češi. A většina lidové muziky je o lásce nebo smrti, případně obojím. Stejně jako blues. Kytary z krabic od doutníků se ladí do akordu, podobně jako evropské dudy nebo niněry. Dron, jednoduché riffy, ostinato, to všechno najdeme i po Evropě. Stačí se podívat hlouběji než do písní aranžovaných ve folkloristickém duchu 19. století. Prostě všechno to tu bylo a jen to čekalo, až to někdo pořádně proplete. Nevěříte? Poslechněte si ukázky.
Embed third party content
To protect your privacy, we do not automatically load third-party content without your consent.
Want to load content from the w.soundcloud.com website?
Jak to nahráváme?
Dlouho. Pomalu. Trochu se u toho vztekáme. Ale stojí to za to. I když Mr. Folxlide živě funguje skvěle, samozřejmě se ukázalo, že na CD je potřeba všechno předělat. A tak jsme přidávali další smyčky, piplali aranže, pozvali hosty, brali do rukou nástroje, na které normálně nehrajeme a hodiny a hodiny to skládali dohromady. A pozor, není to plural maiestaticus: to my zahrnuje ještě Michala Pajdiaka, který to svým bedlivým uchem profesionálního zvukaře a producenta ve studiu little m records nahrával. A teď to míchá, produkuje a když všechno dobře dopadne, snad to i zmasteruje bez újmy na duševním zdraví.
Na co půjdou vaše peníze?
Zhruba půlka na ty hodiny a hodiny ve studiu. Třetina padne na lisování CD a tisk obalu. Zbylá šestina pokryje honoráře pro hosty, grafičku a další drobnosti po cestě. Pan Folxlide to dělal zadarmo, z čisté lásky smíchané s trochou hubris a trochou naivity. Nezbude mu ani na bublifuk, ale když teď poslouchá premixy, stejně z toho má dobrý pocit.
Díky za dočtení a podporu!