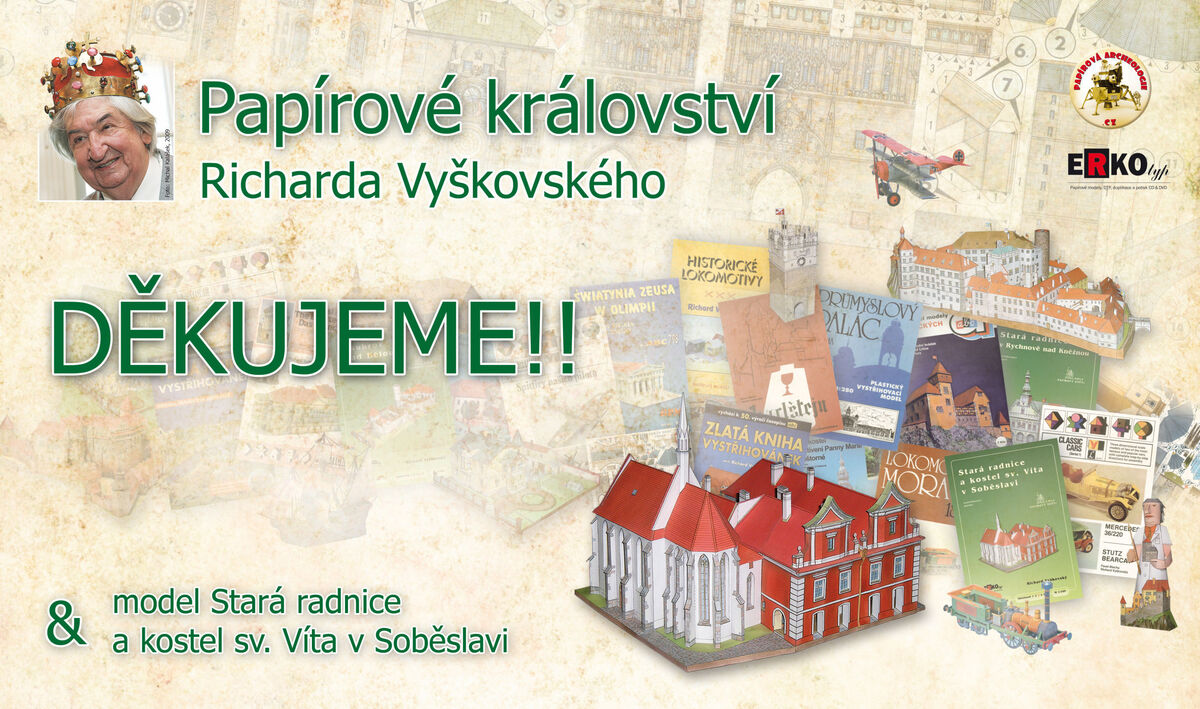 5/6/2019

Obrovské DÍKY vám všem za ten neskutečný start ... !!

Milí přátelé, vážení podporovatelé,

DĚKUJEME!! Něčemu takovému skutečně nikdo z nás nevěřil, ani v to asi nedoufal. Dokonce se přiznám, že já sám jsem byl ohledně úspěšnosti tohoto projektu delší dobu poněkud skeptický, než mne jeho příprava natolik pohltila, že jsem ty obavy už přestal vnímat. Ale teď už celkem pevně věřím, že zde uspějeme, a vy se tak už během června budete moci radovat ze svých odměn.

Mám z toho opravdu neskutečnou radost, stejně jako jistě i pánové Fajkus a Kropáček, kteří pro vás připravili texty do publikace, včetně velkolepého seznamu modelů mého otce, a celý projekt vlastně iniciovali. A při tom, co všechno se mi v rámci jeho příprav za poslední týden přihodilo, o včerejšku a dnešní noci raději ani nemluvě, je teď moje radost z toho zdejšího startu ještě o to větší ...

Zejména přátelé z Brna pak jistě ocení i oběť, kterou jsem našemu projektu přinesl, a sice že v časové tísni jsem nakonec zrušil i od listopadu rezervovanou prohlídku vily Tugendhat, kterou jsem dostal k narozeninám od své rodiny. Kdybych to neudělal, nestihli bychom odstartovat včas tak, jak bylo potřeba vzhledem k chystané výstavě v Království železnic. Ale teď toho už nelituji a věřím, že se tam prostě podívám někdy jindy.

Co mne ale na tom raketovém startu těší úplně ze všeho nejvíc, je ta neskutečná podpora, kterou tím vyjadřujete nejen našemu projektu, ale zejména mému otci a jeho tvorbě! A tak vám všem teď děkuji i jeho jménem. Je to nádherné ocenění té tvrdé padesátileté práce, kterou rozdával radost několika generacím modelářů.

A v neposlední řadě také díky za ty vaše dnešní čtyři krásné komentáře. To je prostě radost číst a pro nás i úžasné povzbuzení do další práce ...

A tak díky, díky, díky, držte nám palce i dál a zůstaňte s námi!

 

Krásný večer a dobrou noc,
Richard Vyškovský, ml.